PhotoLuminations: Photography and Stories

Jerry Halberstadt: Seeing the story, making a difference
Community
Documentary, Reportage, and Whimsical Views of People and Places
Mainly Covering Boston, and North of Boston in Peabody, Salem, and other Essex County and North Shore Locations
Documentary Essay on Salem, an Evolving Seacoast Community:

Snapshots of the Many Ethnic Cultures, Faces, and Foods of Peabody
Peabody is more than some shopping malls and old tannery buildings, and more than the waters that flood downtown in the spring. Peabody is a festival of peoples from many ethnic backgrounds, filling the center of the town on a sunny Sunday afternoon in September, and mingling, dancing, and eating in several languages and flavors.

Opening at Row Gallery (Artist's Row, Salem MA)
Hosted by artist and gallery impresario Barbieo Barros Gizzi, and enjoyed by artists, friends, and the public. Show demonstrates talent of Gizzi in bringing together a harmonious blend of several different artistic styles. And, works of art are selling well! Show continues through end October.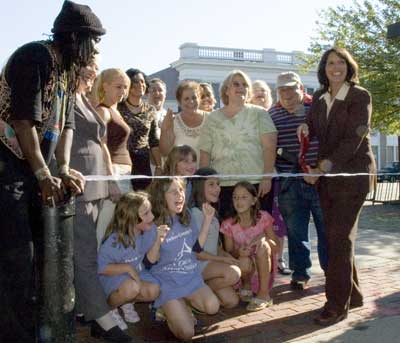 Salem Mayor Kim Driscoll Cuts Ribbon at Artist's Row
Kim Driscoll cuts ribbon on August 17, 2006, to celebrate exciting new season of art and crafts at Artists' Row. Artists' Row, between Derby and Front Street, is in heart of historic downtown Salem. Driscoll previews exhibits at Row Gallery, other shops.
Pure living Americana, with hundreds of people gathered at Derby Wharf, framed by the Custom House and the tall ship Friendship in the NPS Salem Maritime National Historic Site. A flyover by the 104th Air National Guard, the National Anthem, food, entertainment for the children, a pops concert with the Hillyer Festival Orchestra conducted by Dirk Hillyer, and a satisfying fireworks display. 4th of July