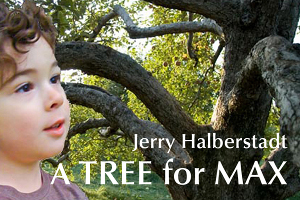 "...entertaining, educational & just plain fun"
"...a book which continues to grow along with a child as he/she journeys through life and will bear fruit all along the way."
A Tree for Max, an illustrated story for children, tells the story of trees, birds, and a dog cooperating to help a young boy, Max, obtain a tree to help him adjust to his new home. It is a story of loss and discovery, a fable of growth and change, love of the natural world, and environmental stewardship.
Max is three and a half years old when his family moves to a new home, leaving behind his 'forest' — a stand of trees in their old yard. His forest becomes the focus of his feelings of disruption and loss related to the move. The forest sends the swans with a message to alert the King of the Trees about the problem. The King holds a conference and many species of trees compete to live with Max. Finally, Grandfather Apple Tree resolves the question, and an apple tree is sent to be a companion to Max.
The main characters are unusual even in books for children—an elm tree, forest trees, apple trees, swans, and a Canaan dog—and early readers are enthusiastic. The book is in a new long form, 131 pages with 64 color photographs, yet despite the unusual length, young readers devour the book in one sitting, eager to find out if Max does indeed get a tree. Parents and grandparents may choose to read the book with children over a few bedtime sessions.
It took me a year to develop the book because apple trees play an important role in the story. I became fascinated by the beauty of the apple trees in a local orchard, and returned many times throughout a whole year in order to cover their annual cycle. Thus the illustrations bring out the beauty of apple trees in every season, and I hope the story will encourage readers to visit an apple orchard, especially in the spring when the trees are covered with blooms, and in the fall harvest season to pick their own apples. But the story touches on other natural settings as well: wetlands, ponds, and woods, all worthy of visits by families.
I call it a 'fable' because the story is fabulous both in the sense of wonderful and fantastic; and also having messages. It is not a moralistic fable, but rather can provoke thought and discussion about ways to deal with loss (there are too many children living in poverty or displaced from their homes or whose parents can't find work), our place in the natural world, and preserving the earth so that our grandchildren can enjoy a secure future.
The idea for this book was sparked by a remark of my grandson, Max, soon after his family moved; Max said, "I miss my forest." I thought to get him a tree that would 'plant' the family in their new home and give him a positive focus for his feelings. And then the book grew from a gift card to a short book and a young tree, and a growing collection of photographs of apple trees clamoring to be included in the book. The Grandfather Apple Tree of the book is a stand-in for all grandfathers who delight in sharing walks with their grandchildren. Readers of the book who wish to know more about the real Max can read the essays of his talented mother: Elana Halberstadt: one mom using her words and colors.
Opening of A Tree for Max: A Fable for 7 to 70, by Jerry Halberstadt.
Max lived in an old house in Oldtown. There was a big yard with a stand of old trees. Max called the trees his 'forest,' and he loved to listen to the trees. And the trees seemed to listen to him. But when Max was three and a half years old, his family moved to Newtown. Their house in Newtown was very nice and there was a big yard. But there were no trees in the yard.
One day Max said to his Mom, "I miss my forest."
Meanwhile, in Oldtown, the forest trees missed Max. And so...
One fine day, the King of the Trees was awakened by two large, white swans. Whoosh! Swoop! Woosh! What a loud sound they made, flying around the head of the grandest tree in Peabody Forest.
"Wake up, King of the Trees, we have a message for you."
Praise for A Tree for Max
"What a wonderful book! My second-grade students loved it. We loved the photos and the concept. It sparked up a nice conversation about nature. I would definitely share this book with future students, especially in the fall with apple picking season and new beginnings with a new school year. I forwarded it to a few of my colleagues to share with their students. Personally I loved the book, probably in a different way than my students. The book has messages for both adults and children."

— Amy Eagan, 2nd grade teacher

"My son Julian, 3rd grade, liked the book a lot. Julian read it alone. He sat down and read it from beginning to end without any stop. He said the plot was interesting and liked that there were "real pictures." He also took pleasure in retelling me the story, which is very unusual! He normally does not like to tell about what he reads, but this time, explained it to me in great detail."

—Pascal, Julian's dad.
It is a very well written, thoughtful book that I recommend because our children really responded to it. Our girls, Taylor (7 years, 2nd grade) and Ally (5 years) loved A Tree for Max, both the storyline and the pictures. Teddy and I read the book to the children, although our 7 year old could have read it alone.

—Andrea
My granddaughter, Kyla, (8 years, grade 3) loved the book. I read it to her and next she read it to me. We have talked frequently of seasonal changes that the book brought to light. She tells me that she especially loves Grandfather Apple and the guard dog. This is a very thought provoking subject that allowed Papa to spend some quality time with his granddaughter. Kyla has shared it with several friends, and I have recommended it to her teacher.

—Gerry T.
"Thank you! what a delightful story! and the photos are beautiful. This is actually a good story for me to read right now, as I live in the pine forest and will be moving to a house without trees. You're right, moving is difficult."

—Sally, age 64, and Libi (Canaan dog).
My children, Michael, age 8 and Philomena age 5, both enjoyed "A Tree for Max." They enjoyed the personalities of the trees and of course, the pictures. Michael, who is home-schooled, said "It was a good idea for swans to be messengers because they can fly."

As an educator, I enjoyed the thoughtfulness and sensitivity of the story. Moving is a transitional period in a child's life, it does not have to be traumatic. Your story conveys the message that Max is loved and cherished no matter where he lives. Valuable lessons about nature are presented through the pictures and the narration of the trees. We see the seasons of Max's life change in a metaphorical sense, and we see the seasonal cycle of change in the trees. Reading your warm and touching story, people can relate these physical and emotional events in a meaningful way to their own lives, Thank you for sharing it with us.

—Janel
"Just plain fun"

The story gives voices & mannerisms to natural entities, which both The Big Explorer & I found entertaining, educational & just plain fun
There is no recommended age, but my 7-year-old was able to read it on his own in one sitting; it also makes a great picture book for younger kids
The book includes a whopping 64 color photographs to help bring all the characters and their voices to light.
Most of all, this tale is full of lessons about the natural world and our place in it.

—Go Explore Nature Review by Debbie Huang, mother of Big Explorer (7) and Little Explorer
[My granddaughter] will appreciate the story of Max's move from one home to another, as she experiences along with Max the changes which take place when a child is transplanted. She will focus on the beauty of the photography and the imaginary conversations occurring among the forest trees. What a wonderful way to stimulate her sense of make-believe and awe!—Lorette Lavine, Parenting in the Loop
A Tree for Max: A Fable for 7 to 70 by Jerry Halberstadt.
For children, parents, teachers, and grandparents. Read it together with a younger child over 2-3 nights as a chapter book. Beginning and independent readers from first or second grade do enjoy it. Or use as a picture book, with or without the captions.
121 pages + 12 pp. cover + front/back matter; 64 luminous color photographs.
ISBN: 978-1-882431-10-6 (PDF)

ISBN: 978-1-882431-11-3 (epub)

ISBN: 978-1-882431-12-0 (mobi, kindle)
Read the free online sample of A Tree for Max.
A limited number of free review copies are available, on condition that you write an honest review and post to your blog or review publication; a short post to the "customer review" on Amazon and Kobo would be appreciated. Please apply to http://photoluminations.com/drupal/?q=contact , agree to publish your review, and indicate the best format for you (PDF, epub, mobi).
A Tree for Max—BUY NOW:
KOBO.COM "READ FREELY"

A Tree for Max: A Fable [epub; KOBO VOX, and many other color-capable devices]
BUY NOW A Tree for Max @KOBO
AMAZON
A Tree for Max: A Fable [Kindle mobi Edition; for Kindle Fire™ or software on many color devices]
BUY NOW A Tree for Max @AMAZON

Published by PhotoLuminations, an imprint of

NEW TECHNOLOGY PUBLISHING, INC.