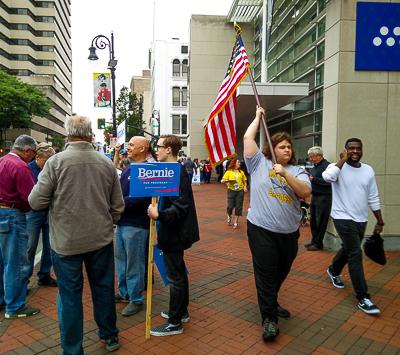 People come to political events with their fears and their hopes. Here are glimpses of some supporters of Sanders, Warren, and Markey. Along with the chants, the printed shirts, the signs came the feeling of a rally. Some faces were serious, some showed pain, and some showed something close to ecstasy. All radiated a hunger---of hope for action to save the planet and address national priorities as well as personal needs.
On Saturday, September 15, 2019 the Massachusetts Democratic Party assembled in the MassMutual Center in Springfield  to hear politicians proclaim the virtues---their own and their colleagues.
As a documentary photographer, I don't stay in my seat. Instead I seek out a place where I can get in touch with the feelings that people demonstrate. I stationed myself at the stage, and didn't attempt to capture the speakers. Instead, I turned to watch the delegates, especially those who were demonstrating for their favorites.
See how this diverse group of citizens respond to their leaders.