Crafting a law to stop bullying
Rep. Paul Heroux and Rep. Jay Livingstone invited Michael Kane, Executive Director of Mass Alliance of HUD Tenants and me to meet with them and other legislators yesterday (13 March) at the State House to help craft a bill to stop bullying of elders and disabled in housing programs. They invited Senator Joan Lovely, my own senator who has supported our efforts from the beginning. The new bill is intended to complement, build on, and improve the original effort, S604. UPDATES & NEWSLETTER AT StopBullyingCoalition.org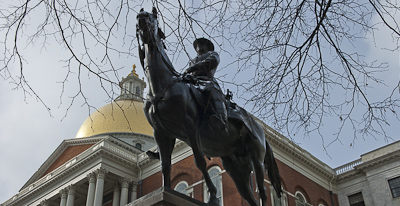 Massachusetts State House with Gen. Hooker statue
Our shared goal was to develop a better bill to stop bullying. S604, based on the school bullying bill, covered a number of issues well, but did not fit the realities of housing. Rep. Heroux had become involved in working on this legislation after "Margaret" and others in his district of Attleboro had testified to the lack of protection from harm. Heroux and Livingstone picked up the challenge to help solve the problem of bullying in residences for elderly and disabled.
Other participants in our meeting included members of their staffs as well as those representing Senator Joan Lovely. Senator Lovely introduced S604, a bill to protect people against bullying. Rep. Heroux represents Attleboro, a city that has begun to deal with the issue of bullying. Rep. Livingstone, a former prosecutor, represents part of Boston.
On the way to the meeting, we stopped to chat with Governor Deval Patrick. I stopped briefly to observe the House Chamber, where the hall was filled with members of the student government, singing the national anthem, and the speaker, a senior citizen, noted how she was overcome with emotion to be at the state house for the very first time.
And on this, only my third visit to the state house, I was honored to be part of the process to create legal protections against bullying, and delighted to be part of a working group whose members have many skills, but most importantly, a dedication to justice. I am struck by the dedication and sincerity of the people, elected and staff, who have chosen to do "the people's business."
Although people say that the legislative process is like making sausage, actually, it is more like a college seminar! We worked well together, sharing experiences and raising or answering questions, considering solutions,exploring what we could or could not expect to accomplish.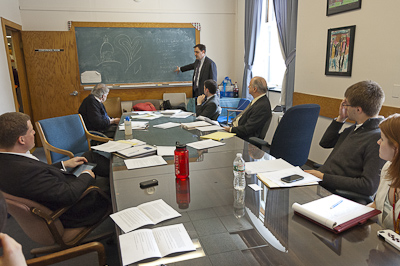 Rep. Jay Livingstone outlines enforcement options
I had been struggling with the bullying problem for six years, had studied the work of experts on bullying and mobbing, but could not introduce change alone. I had learned from victims and advocates, had worked with Mike Kane and others to create an advocacy coalition, but there were gaps in what we knew. So we needed input from people with different skills. The testimony of "Margaret" and others from Attleboro, as well as from other communities, had emotionally demonstrated the harm done by bullying and mobbing, and the urgent need for protection.
I am learning that making laws is very much a collaborative, social process, and that citizens and legislators can and must work together. And I noted that staff members and legislators alike used their electronic devices to check out legal issues during the discussion. What a contrast between the historic elegance of the state house and the immediacy of portable computing!
Jay Livingstone outlined for us the various types of enforcement we might use, civil and criminal. Livingstone and Heroux will meet informally with other legislators to help define strategy and create support.
We distinguished several issues in order to better define what we could do.
To stop bullying, we can define it as unlawful: Thou shall not bully.
We can specify how to enforce this prohibition. We can specify civil and criminal penalties.
We can empower the state to intervene and act.
We can provide a means for the victim to seek redress by a civil action. This can be an important process for a victim seeking to recover from injury, but it can be long, expensive, and stressful; it is not a path for every victim.
Our understanding of bullying is that it emerges as a process in a community, and that setting limits is only one part of preventing bullying. Another way to protect people against bullying would be to support the creation of positive, healthy communities through a program of training and education, and collaborative efforts among residents and managers. But such a proactive, preventive approach depends not only on law, but on financial, administrative, and research efforts to support the changes. At this time, the Commonwealth is unlikely to make this investment, so we concluded to seek such a mandate in stages, beginning only for subsidized housing that can obtain funds to undertake such a process.
Strategy
We determined our long-term strategy. First,to create a bill that can be heard in committee and have a good chance for acceptance. Second, to recognize that we cannot mandate an ideal solution for all housing because the law does not permit creating unfunded mandates and it is not realistic to expect the legislature to provide the funding. However, some subsidized housing is eligible for training grants,and we can expect them to lead the way. Third, after our basic bill is passed, we can return to develop additional legislation as needed to continue the task of ending bullying in the residential setting.
The emerging shape of the bill
The structure of the bill, subject to discussion, feedback from and negotiation with other legislators, may follow this outline:
The law could be under a section of the General Laws that deals with the rights of tenants.
Definitions. What is bullying, group bullying, mobbing. What types of housing are covered: subsidized; other. Housing for elderly and disabled.
Prohibition on bullying: Don't bully! Don't mob!
Actions of the landlord/management: They will be required to have a policy on bullying; post it in the residence; outline the consequences for bullying; enforce the above.
In addition, subsidized housing with access to funding would be required to train and educate staff and residents, and to introduce remedial and preventive programs.
Enforcement
Several types of enforcement are being considered.
A direct cause of action against perpetrators, both residents and/or management. Victim can go to court in a civil action seeking redress.
Civil fines, criminal sanctions. This would be a modification of the law against harassment; victims of bullying would have similar protections to those under harassment protection. The victim can represent self, no lawyer needed; file complaint in court, seek protection order. Repeated violations would escalate into criminal law. This would be under Mass General Laws and thus the remedies would be available to all victims. The benefit of this approach is to provide immediate relief and protection to a victim. While we cannot cover all types of subsidized housing at this time, the new bill can provide relief to people in any housing project, and possibly to any victim of bullying.
Intervention by a state agency (agency to be determined)
Moving forward
We are moving ahead rapidly, writing a much better, nuanced and powerful bill. We will hope to get it reported out of committee when it is considered, either later this year or next, or we can use the new bill as an amended version of S604. Either way, we are not likely to get a vote by the House and Senate until next year. But we have already moved our goal through the legislative process further, and faster, than is usual. We will keep the momentum going, and we need your help. If you are a voter in Massachusetts, call or write your legislators to urge their support to help stop bullying.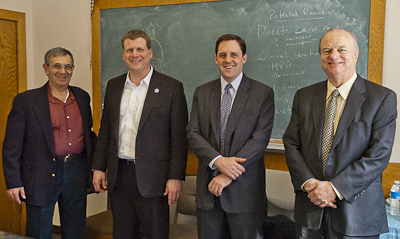 Jerry Halberstadt, Stop Bullying Coalition; Rep. Paul Heroux; Rep. Jay Livingstone; Michael Kane, Mass Alliance of HUD Tenants. Photo courtesy Nicole Stephens
So much of the work at the State House is done by staff. At our meeting: Sam Gamer and John Horgan represented Senator Lovely. Nicole Stephens is the legislative aide to Rep. Heroux. Tom Dionesotes is the legislative aide to Rep. Livingstone. Many thanks!