New signs of a growing environmental awareness in Peabody include an arts festival, a new school, and net metering.
Small steps to creating environmental responsibility
Schoolchildren and their parents enjoy the sights and sounds of a fall harvest, and through making and appreciating art, learn a little about the natural world. A grand new middle school with a design based on energy efficiency will save money while providing an object lesson to the community. And net metering makes renewable energy more attractive to homes and businesses. Each small step engages the community and opens new perspectives and opportunities. And together, these steps may bring Peabody to an expansive vision of concern for the environment.
The festival: Drawn to Brooksby
On Saturday, 26 October, hundreds of Peabody families enjoyed the second annual celebration of "Drawn to Brooksby," a unique community harvest arts festival at Brooksby Farm. They enthusiastically viewed a variety of media on display in greenhouses, including colorful leaf prints, photographic essays, watercolors, pottery sculpture, and mixed media, as well as musical performance. The focus was nature-themed art created by Peabody students in grades K-12. Peabody is a city north of Boston, MA USA.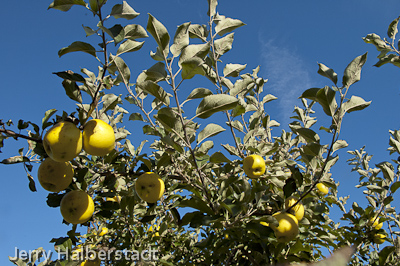 Visitors to the festival approached the farm along a road surrounded by trees in brilliant fall colors, and overlooking hundreds of apple trees. From the farm store came tantalizing smells of baking apple pies and donuts, welcoming people as they left their cars.
Pumpkins and brilliant fall plants were on display. In the art exhibit areas, children eagerly pointed out their favorite works, and proudly showed their own creations to their parents and siblings. Elected officials, including Mayor Bettencourt, school committee member Beverly Griffin Dunne, and City Councillor Ann M. Manning-Martin were on hand, mingling with parents, and State Senator Joan Lovely captured photos of the art as she explored the exhibit.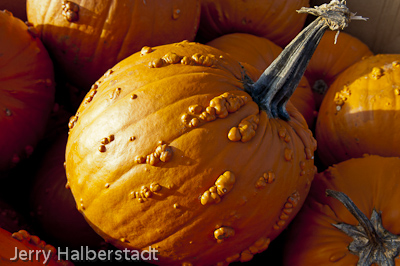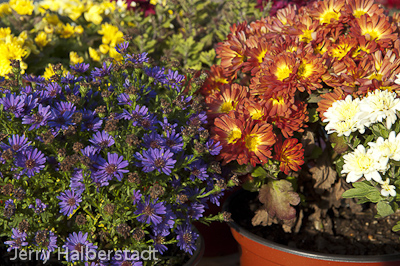 The quality of the art work testified to the ability of each of the teachers to define topics and methods, while encouraging individual expression. The students at every grade level demonstrated the ability to observe and analyze nature, and to use artistic skills to report, transform, and engage. A couple of photographic essays skillfully combined images with text to evoke a concern about the relationship of society and nature.
For the volunteers in Green Peabody, this was a high point of their efforts to engage the community in a concern for the environment. By leveraging the enthusiasm and openness of children, they hoped to awaken a communal interest in nature and in environmental issues.
"Drawn to Peabody," was a collaboration of Green Peabody with the Peabody schools and Brooksby Farm. Green Peabody is a committee of volunteers working under Mayor Edward A Bettencourt, Jr. to promote awareness of our relationship to nature, and advocating recycling, renewable energy, and energy efficiency. Brooksby Farm, owned by the city, is a traditional New England farm with apple and pear orchards.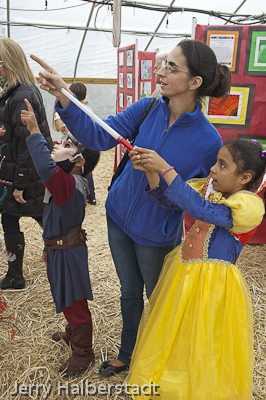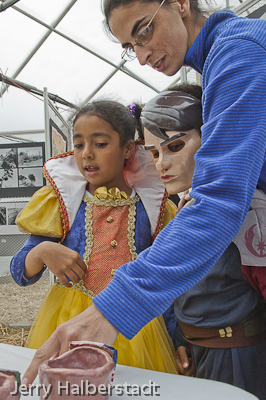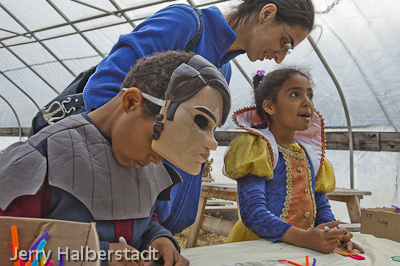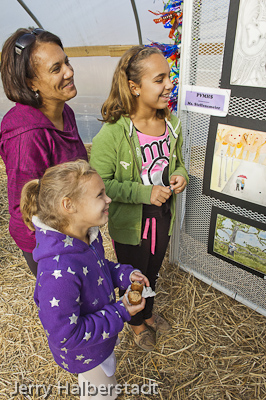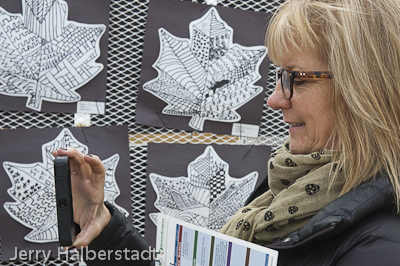 Photo captions
Marisa Deguadros with her children Felicia Vincent and Alex Vincent; looking at art displays and making art
Kathy Plourde with her children, Amy and Elise
Amy Plourde with her button tree artwork.
State Senator Joan Lovely appreciates and photographs the displays
Innovative, practical design of a new school
Another landmark in changing community sentiment towards the environment is the planned Higgins middle school, which will have a Leadership in Energy & Environmental Design (LEED) certification attesting to advanced, cost-saving efficiencies. LEED buildings provide safe, comfortable work and study environments, while reducing the use of energy for heating and lighting. This reduces the use of carbon-based fuels and thus limits the impact on the climate while providing significant operational savings.
New energy policy allows net metering
And, despite earlier opposition, the Peabody Municipal Light Plant, responsible for all electric power in Peabody, now encourages net metering. Net metering enables a business or homeowner to install renewable energy such as wind or solar and to sell their excess power to the distribution system. Renewable energy enables significant cost savings and reduces impact on the environment.